About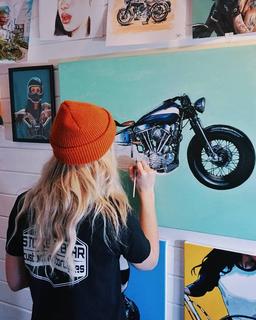 Jet Bailey, Artist
Specialising in painting and motorcycle art

Stoke and Bear Art was born out of a huge passion for painting and love of all things Motorcycle and retro related.
I have a BA(hons) in Fine Art and specialise in painting. I use a variety of art media to paint everything from original paintings on canvas, to Motorcycle helmets, tanks and skateboards. My aim is to create bright and bold images that reflect a love of colour and interest in retro styles from the recent past.
I am especially interested in learning about the unique stories and faces of motorcycle builders, owners and riders around the world, and I am developing a body of work that focuses on the people behind the motorcycles.
If you are interesting in commissioning your own painting, please contact stokeandbear.art@gmail.com
Previous Exhibitions:
The Invictus Barbers - Sherborne

Art of Motorcycles Show, Dubai - 23rd February 2019

Berets MC Autism Awareness Ride - Dubai - 15th March 2019
Pistonhead X Vince Summers Bike Launch - House of Vans London - 15th March 2019
The Bike Shed London 2019 - 78 Motor Co Stand
Matchlight Motorcycle Show - Jerry Can Art Show - The Netherlands

Black Deer Festival - 21st - 23rd June 2019

The Malle Mile - 26th - 28th July 2019

Freedom Machines - Canada - 13th July 2019

Yandles Show - September 6th and 7th

Kickback Motorcycle Show

Current and future Exhibitions, and artwork for sale at:
Moto Corsa, Gillingham
SBomb Vintage Workshop, Poole Harbour
Man About Town Barbershop, Yeovil
Currently featured in:
P&Co Womenswear Campaign 'Do What You Love, Not What Your Told' - https://pand.co/blogs/news/jet-bailey-artist-somerset
Cycle Source Magazine - November 2018 issue
Pistonhead Lager Foundation: https://www.pistonheadfoundationuk.com/news/stokeandbear

Want to get in touch? Email: stokeandbear.art@gmail.com