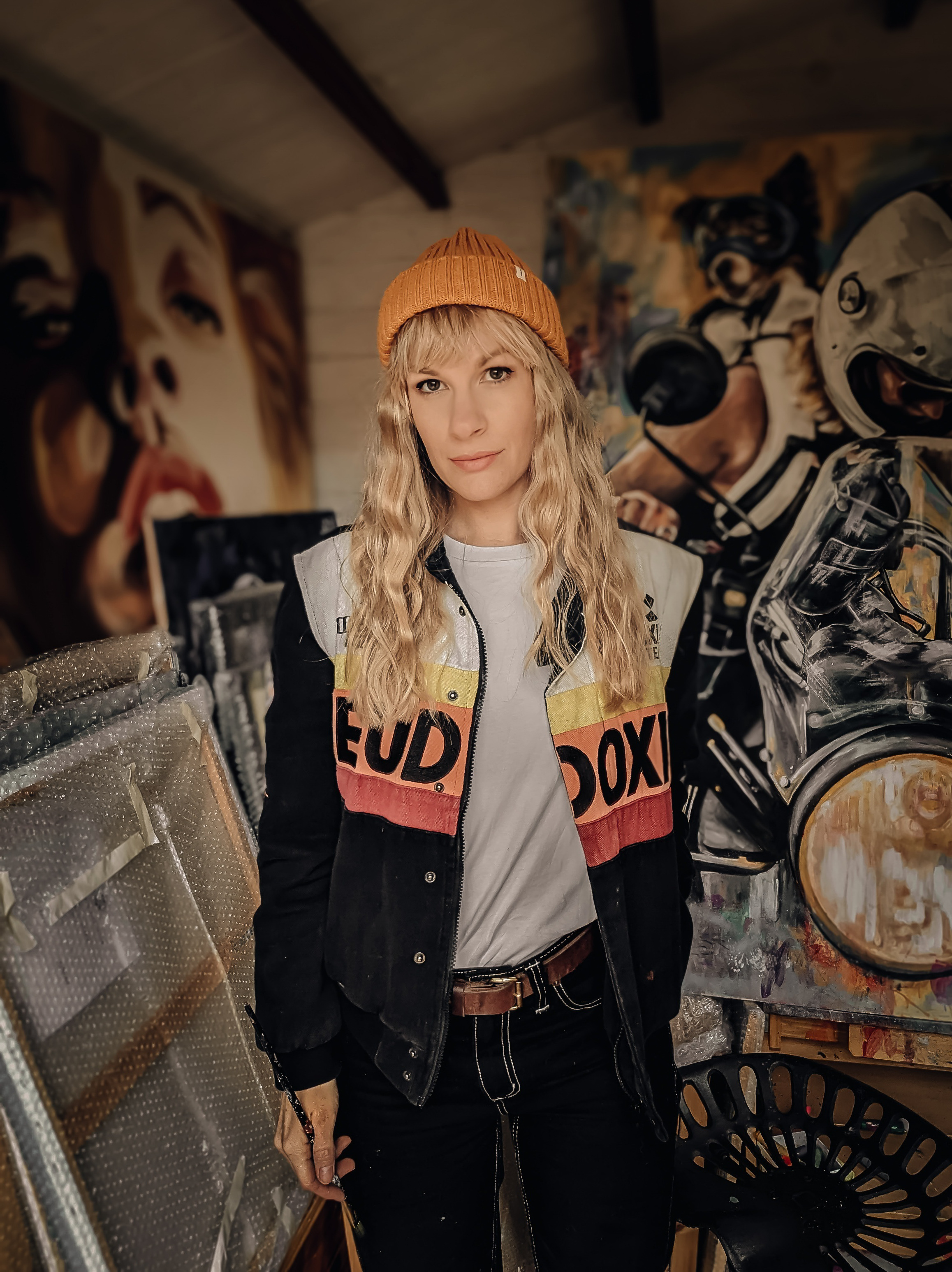 Jet Bailey, Artist 
Specialising in figurative painting and motorcycle art
Stoke and Bear Art was born out of a huge passion for painting and love of all things Motorcycle related, and runs alongside Stoke and Bear Motorcycles (custom motorcycle builds).
I have a BA(hons) in Fine Art and specialise in painting. I also have a Master's Degree in Art Therapy and have exhibited my paintings at a number of shows around the world. I have a keen interest in mural and live painting work, which I have been fortunate enough to do at several events. 
My current body of work focuses on the biker community, in particular women in motorcycling. My paintings focus what community means to bikers, I paint real bikers who have shared their images and stories with me. I also involve my own family in my paintings, highlighting the sense of togetherness.
Through my paintings, I aim to explore how motorcycle culture is becoming more diverse, and whether this is beginning to translate into a stronger sense of community and freedom. 
Previous Exhibitions

The 101 Run, in collaberation with Red Wing Shoes 2023
Mural Work for VC London 2022

We Make Things Gallery, Yeovil
Art of Motorcycles Show, Dubai

Berets MC Autism Awareness Ride - Dubai
Pistonhead X Vince Summers Bike Launch - House of Vans London
The Bike Shed London 2019 - 78 Motor Co Stand
Matchlight Motorcycle Show - Jerry Can Art Show - The Netherlands
Black Deer Festival - Kent

The Malle Mile - London

Freedom Machines - Canada 
Kickback Motorcycle Show - Cheltenham 

Sbomb vintage workshop, Poole Harbour 
Current and future Exhibitions, and artwork for sale at:
Legacy 1885
The 101 Run, Dice Magazine event, Margate 2023 in collaberation with Red Wing Shoes
Currently featured in:

In Her Studio Magazine - Autumn 2022 issue
Interview with Creative Collective: https://creative-collective.cc/jet-bailey/
P&Co Womenswear Campaign 'Do What You Love, Not What Your Told' - https://pand.co/blogs/news/jet-bailey-artist-somerset
Cycle Source Magazine - November 2018 issue
Pistonhead Lager Foundation: https://www.pistonheadfoundationuk.com/news/stokeandbear

Want to get in touch? Email: [email protected]